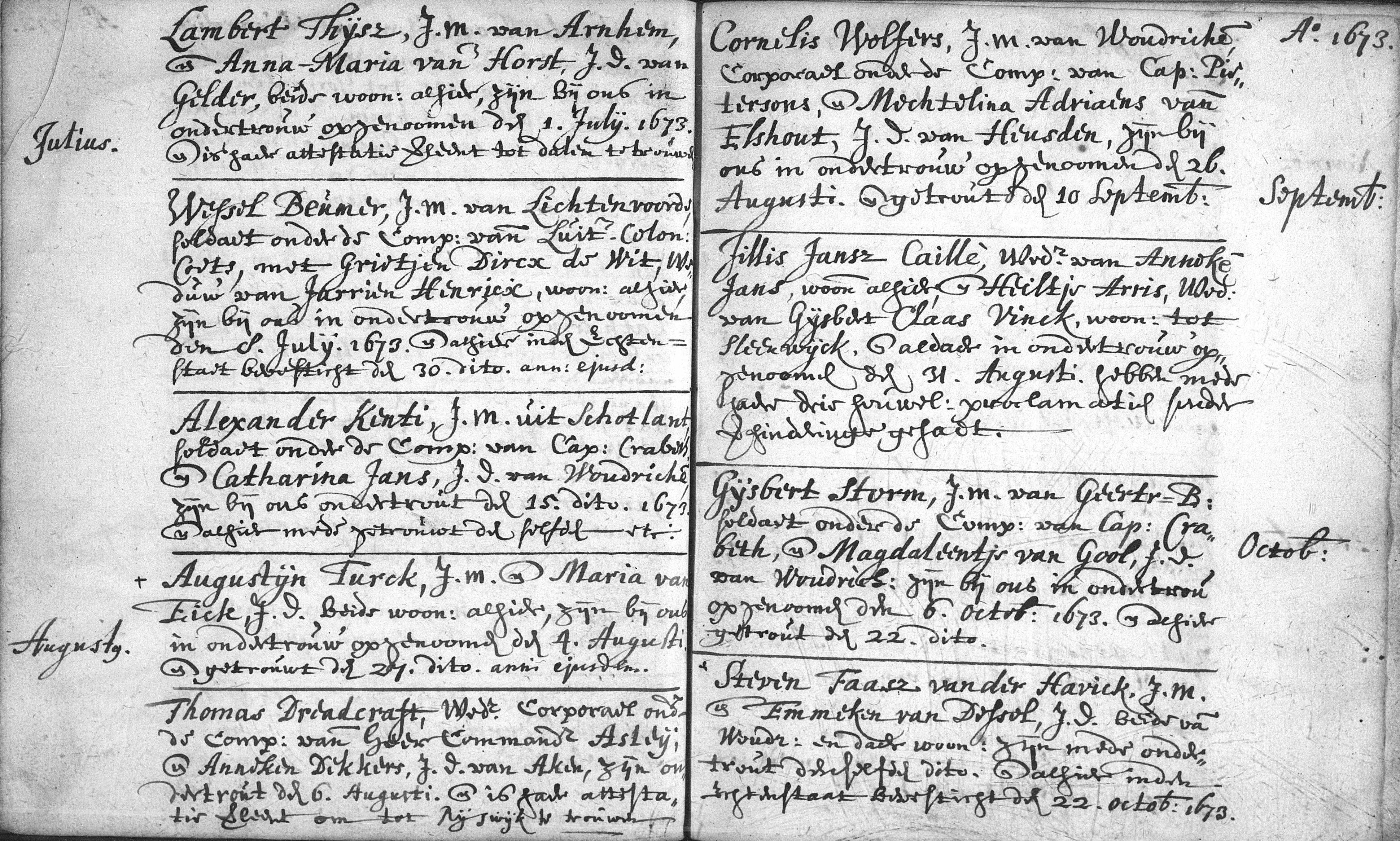 Op deze pagina is een afbeelding te zien uit de trouwregisters van de Nederduits Gereformeerde Gemeente Woudrichem.
Het is de oudst bekende registratie van de familienaam Kentie. In die periode geschreven als Kenti.
Uit het document blijkt dat Alexander Kentie uit Schotland komt. Helaas zijn er geen betrouwbare gegevens over zijn geboorte en/of ouders aanwezig.
Verschillende bronnen op internet geven aan dat Alexander in 1634 in de stad Dyke in Schotland werd geboren als zoon van Colin Kintey en Isobell Rett. Geen enkel document uit die periode bevestigt deze veronderstelling echter, daarom zijn Colin en Isobell niet opgenomen in de genealogie op deze website.
Als iemand betrouwbare gegevens heeft over de herkomst van Alexander, zou de webmaster het op prijs stellen als deze gegevens met hem worden gedeeld. U kunt hem via zijn e-mailadres johan@kentie.eu.
Theo Kentie, ook een afstammeling van Alexander en Catharina, is uitgebreid in de geschiedenis gedoken om erachter te komen waar Alexander Kentie oorspronkelijk vandaan kwam en wie zijn ouders waren.
Hij deed ook onderzoek naar de militaire eenheid waarin Alexander soldaat en later korporaal was.
Hij heeft dit op zijn website gepubliceerd. Het is in de Nederlandse taal, maar met Google Translate zou je het in het Engels kunnen vertalen. Zie: theokentie.nl/blog/waar-komen-de-kenties-vandaan/.
On this page you can see an image from the wedding registers of the Dutch Reformed Municipality of Woudrichem.
It is the oldest known registration of the family name Kentie. Written in that period as Kenti.
The document shows that Alexander Kentie is from Scotland. Unfortunately, there are no reliable data on his birth and/or parents.
Several sources on the internet indicate that Alexander was born in the city Dyke in Scotland in 1634 to Colin Kintey and Isobell Rett. However, no document from that period confirms this assumption, which is why Colin and Isobell are not included in the genealogy on this website.
If anyone has reliable data about Alexander's origin, the webmaster would appreciate it if this data is shared with him. You can johan@kentie.eu via his e-mail address.
Theo Kentie, also a descendant of Alexander and Catherine, has delved extensively into history to find out where Alexander Kentie originally came from and who his parents were.
He also researched the military unit in which Alexander was a soldier and later a corporal.
He has published this on his website. It's in the Dutch language, but with Google Translate you could translate it into English. See: theokentie.nl/blog/waar-komen-de-kenties-vandaan/.